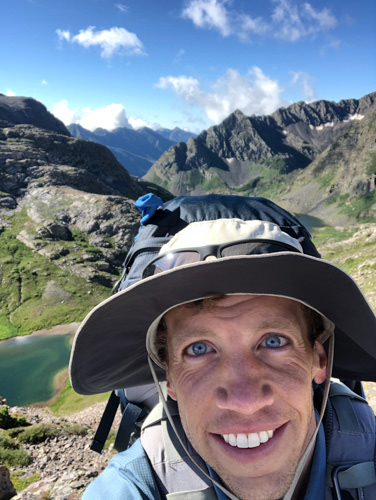 Brent was born in Cody, WY and spent most of his childhood living in the small town of Basin, WY. Camping trips were a common occurrence while living in Wyoming, which likely has a lot to do with his love of the mountains. He then spent a few years in southeast New Mexico before going to the University of Oklahoma to study meteorology. It was during college that he discovered his passion for photography. His early photography was varied, with weather and firefighting eventually becoming main themes. His focus has since shifted to mountain wilderness and fire hydrants.
He made the jump to selling his photography in 2019, with the goal of doing a fine art show each month. Brent
 currently lives in Del City, OK (part of Oklahoma City). He attempts to make a couple backpacking trips a year and occasional day trips to photograph fire hydrants.
Places Lived
     Basin, WY
     Artesia, NM
     Norman/OKC, OK
Education
     B.S. in Meteorology - University of Oklahoma
     Minors in math & business
Photography Training
     Nikon School, lots of books, and lots of trial and error
Printing Training
     Lab Technician at Bedford Camera & Video for 1.5 years
     Basics of Digital Printmaking – Cotton Miller – Santa Fe Workshops
Fine Art Shows
     Joplin Arts Fest – Joplin, MO – Sep. 2019
     Summit Art Fest – Lee's Summit, MO – Oct. 2019
     Art in the Park – Friendswood, TX – Nov. 2019
     Austin Music & Arts Fest – Round Rock, TX – Mar. 2020
Gallery Exhibitions
     Gallery One at The Paseo
–
Oklahoma City, OK
–
Jan. 2020
     Gallery One at The Paseo
–
Oklahoma City, OK
–
July 2020 
Other Trade Shows
     An A

ffa

ir of the Heart – Tulsa, OK – July 2019
     An Affair of the Heart – Oklahoma City, OK – Feb. 2020
Backpacking Trips
     Wyoming – Cloud Peak Wilderness – July 2014
     Wyoming – Grand Teton Nat'l Park – August 2015
     Wyoming – Bridger Wilderness – August 2016
     Wyoming – Cloud Peak Wilderness – July 2017
     Wyoming – Cloud Peak Wilderness – July 2018
     Utah – High Uintas Wilderness – September 2018 (solo)
     Montana – Absaroka Beartooth Wilderness – July 2019
     Idaho – Sawtooth Wilderness – August 2019 (solo)
     Arkansas – Ouachita Mountains – May 2020 (solo)
     Colorado – Weminuche Wilderness – July 2020
     Colorado – South San Juan Wilderness – August 2020 (solo)
At the surface, my art is about sharing a talent I have been given with photography. However, dig deeper and you'll find that there is much more to it. You'll see that the mountains are a special place to me, and I love capturing the beauty of these vast, remote areas. You'll find out a career path interest resulted not in a career, but in my fascination with fire hydrant photography, which highlights an everyday object typically overlooked. 
In addition to showing you a glimpse of who I am, my art is also about giving back and doing good. My mountain photography gives me a platform to teach or remind people to enjoy these special places responsibly. For each print sold, I make a donation to causes that have a connection to myself and my photography. Finally, being a self-taught photographer without an art degree, I hope to inspire other artists in a similar situation. 
All of my images for sale have been captured using a Nikon DSLR. I generally attempt to capture the images in a way that requires minimal editing. I personally make all my prints in my own studio on archival paper specifically chosen to reflect my style. I mount and mat all my prints and have a local frame shop do any framing that is needed. Small prints are sold as open editions (no limit to # printed). Medium size prints are sold in editions of 50, and large prints are sold in editions of 25.